Driven to Draft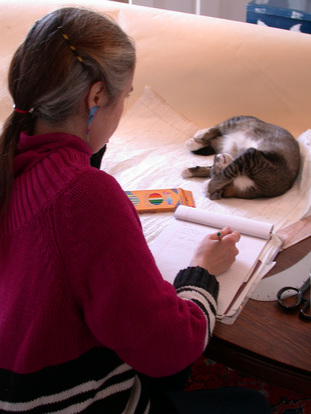 Who is the woman behind the company?
Mackenzie Anderson Sholtz loves creating patterns. One of her earliest memories is making a vest out of left-over wall paper when she was 3 or 4. Dress up with the neighbors as child, high school theatre, historic dancing after college…all required some sort of costume. Half the fun was the fabric and jewelry hunt, the other half the creation of The Look. Of course, there was the burning of the midnight oil to make and finish whatever costume moments before going on stage (Hint: carpet tape makes very good hem tape on velvet). Little did she think when she returned to South Carolina from San Francisco, she would start a company creating patterns from original period garments in museum and private collections. Along the way she has learned an awful lot about cameras, computers, printers and how to fix them. Most of the time she is the only one in her office creating the patterns, writing sewing instructions, and then printing and packaging them to ship to you. Her brother, William Anderson, is her illustrator for the drawings. Now and then one husband (who needs more?), two kids, two dogs and one cat wander in for a visit. Her office is in the attic of her home where she can peep at the trees and clouds.

The serious stuff….
Mackenzie received a BA in Medieval Studies from Vassar College and Certificate of Fashion Design from the Fashion Institute of Design and Merchandising in San Francisco. She worked ten years in the San Francisco garment industry in many areas: as a tambour beader for evening wear, cutter, grader, pattern drafter and designer for a variety of smaller design houses. She also was Department Chair for Fashion Design at FIDM (San Francisco) for 2 years while working concurrently as teacher in the department for 3 years.

Volunteer: During college Mackenzie interned for a year with Joanne Olian at the Museum of the City of New York. In San Francisco, she was a volunteer at the Fine Arts Museums of San Francisco under the direction of Melissa Leventon. Upon moving to South Carolina in 1993, she became a volunteer at the Sumter County Museum and has served six years as a board member. Currently she is serving on the board of the Sumter Gallery of Art.

Exhibitions: In addition to volunteer work for the Sumter County Museum, she has mounted two exhibitions for them. Closing December 2001, was "Poppies for Young Men" based on WWI memorabilia found in the trunks of William Harrison Saunders (see Historic Fashions Calendar by Sally Queen, July 2000). The earlier exhibition "Fashions from Our Past: Reproduction Patterns from the Sumter County Museum" examined the history of home sewing during the 19th century. Along with items from a typical home sewer's basket, the exhibit featured three original dresses from the museum's collection and three reproductions which Mackenzie made (which subsequently became Fig Leaf Patterns® 101, 201 and 202).

Teaching: 1990-1993 Instructor at the San Francisco Campus of FIDM. Since 2008 Mackenzie has taught summer art classes for the Sumter County Gallery of Art which include teaching children 4-14 sewing, jewelry creations, and creating outfits for a fairies tea party. She has also taught costume history class also for children at the SC State Museum.

Lectures: In a weak moment, she will also say yes to giving lectures on almost anything that interests her….mostly clothing related but not limited to household textile items and gender roles in history. The SC State Museum, Sumter County Museum, Camden Archives, Costume Society of America, Kensington Manor, ALHFAM Conference, Details Details Conference have been some of venues in which she has lectured since 1999.

Reproductions: She has also made reproduction garments for display from original garments for Atlanta History Center (GA), Historic Columbia (SC), Jimmy Carter Museum (GA), and Spoleto Festival (SC).

©2013 Dancing Leaf Designs, Inc., all rights reserved.


---