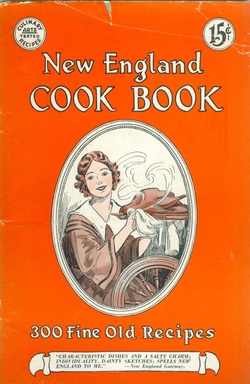 Sunday morning project with the kids was to go through a box of old recipes and put them in plastic covers so they could be seen and perhaps used at some point. Cookbooks and appliance manuals are a great source of then-current fashion and technology items...some extremely amusing like the old astronaut helmet hairdryers. My daughter fell in love with this one. I fell for the cover, she for the contents.

Published in 1936 and still using the old iconography of thrift at home hidden in the spinning wheel. I am amazed and delighted that Revolutionary era propaganda for the homespun movement was still being used...how long did it take you to see the wheel, the Pilgrim-esque fashion, and the Turkey of Thanksgiving's abundance?

Alas, today we connect spinning wheels with Maleficent & Sleeping Beauty and not with home economy and practicality. When did Big Advertising drop the spinning wheel?