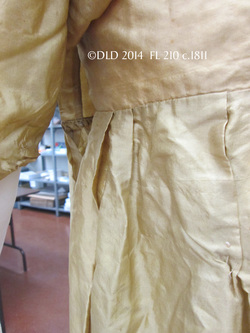 First picture teaser for this wonderful dress. Margaret Evans Larkin Rochelle was born 4 December, 1791. She married Thomas Starke on 1 July, 1811. Together they had 13 children born between 1812 and 1844.

I am dating this dress c.1811 as that is the year she married…not saying this is her wedding dress but perhaps was part of her trousseau or courting dress. She was 19 when married.

Family history has this dress being worn at Lafayette's ball in Camden in March of 1825. She had had her 7th child in October 1824 and so some of the alterations to the dress may be post child-birth comfort changes. The top edge of the bodice with its cross over flaps and the bib front are stitched together. The bottom of the flaps are not stitched. The ribbon strings which would have closed the bib front part are missing. The sleeves have raw edges and pin holes along the top of the sleeve indicating some sort of gathering…perhaps to create a poufy sleeve?

My favorite addition is the tack down of the side pleat. It is exacting in the same place my muslin bubbles weirdly and only one side too!